Too Much Joy?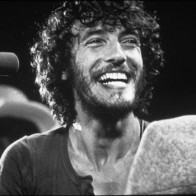 So I had that last night, too much joy. Steve and I went with our friends Sean and Eric to see Bruce Springsteen and the E Street Band at the Meadowlands (if that's still what it's called) last night. It was an emotional roller coaster of a show, and we rode it. Along with 60,000 others, I suppose.
A few things, quick-like. Yes, I'm from New Jersey. It wasn't cool when I was growing up to like this man's music. Or at least, boys I found very difficult to relate to in high school,who grunted out one-word sentences, etc., liked Bruce Springsteen's music. Girls thought he was cute. It was all lost on me. Then I heard Nebraska as an early 20 something. I think this story is many people's story. So it goes, I loved the man, the songwriting, the depth, all of it. I met him a few times, which solidified my love. Plus he's gotten even better looking with age, which has solidified that further. We're solid, me and Bruce.
Do I think it's cheesy? Sure. Do I love it for its pure abandon? Indeed I do. Do I dance and scream? Guess. As he's getting older, he's diving deeper into the spiritual side of things, as if the man's spirit throughout his career hasn't been bigger than life, bigger than the man himself, all along. But it's almost like feeling that much joy, for me… well, it hurts. I think it's in the same family of love I feel for our daughter. Just so much love, it makes me ache. It's not just pure joy, it's knowing that pure joy is transient, I guess. I found myself wishing I knew them personally, the Springsteens, so I could have this feeling again and again (read = totally unrealistic, not to mention ridiculous to imagine that their everyday is like that show).  Mostly my ache came from the fact that at some point, Bruce Springsteen will die and there will not be this opportunity to be part of his congregation anymore. Because there is nothing like it.
Today was grey and cloudy. I'm overtired from getting home at 2am and spending my day on a toddler's schedule. I mean, overtired is a joke. I'm long-term sleep deprived and all I want is more, more … and more music.